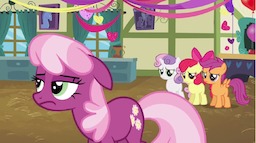 The Green Cloud of Ponyville Elementary
Story has been removed from Fimfiction.net
It is late afternoon in Ponyville Elementary, the Cutie Mark Crusaders smell something horrible. Somepony is to blame for the smell in class. The question is raised: Who farted? Many hooves are pointed and accusations made between fillies and colts.
32 Likes,
1 Dislike,
1,726 Views
A story about that awkward moment when someone silently lets one rip in class. Everyone can smell it there is no denying it, but no one will fess up to it.
This story was purely written to be a comedy at an adolescent level. Though some may take it as fetish fuel, it is not the author's intent.


2,478 words:
Estimated 10 Minutes to read:
[Cache]