About FiMFetch
FiMFetch is an archive of MLP:FiM Fan Fiction Works.
Originally born out of my personal frustration with the limitations of the search engine on FimFiction.net, I now have a growing list of features this project provides:
Archive of active and past works of fiction
Scour multiple fan fiction platforms for MLP fictions
Easy-to-use grainular search features
Random daily fictions
Improved mobile reader formatting
Multiple mobile reader formats
User bookshelves and bookshelf story reviews
An OPDS browsing service for compatible eReaders
And some long-term goals:
Story tracking
Printings Tracking
Audiobook Downloads
This site has been designed from the ground-up in an attempt to make the simplist and most streamlined access to all the pony you should ever want.

Now on Facebook!

What are Stars?
Unique to this archive, each story can be rated collectively!
Most fiction websites allow users to 'upvote' or 'like' fictions, even fewer allow 'dislike.'
Why not try something new?
Part of the starring system is that each vote is tallied and averaged to give a composite rating - the more people that like the fiction, the more stable the rating!
This is a bit of a new concept, so we will have to see where it goes.

What are the Content Ratings?
FiMFiction only allows defining three different content ratings: Everyone, Teen, and Mature.
At first, this seemed 'good enough' to me, but as I recall the various fics I've read, I realized that there is a significant gap that is missing.
For instance, Fallout:Equestria is most certainly not in the same category as porn, and you shouldn't have to see porn to find others like it.
Therefore, even though I keep the ratings to match FiMFiction's archived away, I have introduced three additional rating tags to bridge the gap. (Plus one automatic rating tag to assist)
Without further ado, here are my adjusted ratings defined:
Everyone

No Swearing, Sexual references, Cartoon Violence.

Teen

Light swears ok, but nothing explict, Light sexual references, Some Blood Allowed.

Young Adult

Bad swearwords allowed, intimate non-clop allowed, May have Graphic Violence.

Adult

Fiction with explicit/mature references or an actual story with cloppy content.

Clop

Explicit Clop. The only purpose or goal of the fiction is porn.

Mature

FiMFiction Default tag.
*Fics marked 'Mature' simply haven't been re-categorized.

Dubious

This is an automatic flag: If a fiction was not rated mature, but contains 'bad' words.
(Roughly Equivalent to 'Young Adult', but not reviewed)
Many fics are going to be recategorized from 'Teen' to 'Young Adult' simply because of a 'very bad word' or two, but others because of intimate and/or suggestive romantic relations.
Even though most of the 'Dubious' fics get categorized as 'Young Adult', please don't confuse the tag as being only profanity. Bad words are just simply the easiest thing to search for.
As of writing, there are nearly 23,000 Mature Fics and 66,000+ Teen Fics. I do not have the time to review all of them to assign appropriate tags, but will make an effort to categorize most.
If you find a fic that you think should have its rating adjusted, please let me know! I can't do it all on my own.
On the story pages (while logged in), you can submit a revision post.
(even edit your previously submitted request, if you want)
What is OPDS?
OPDS stands for "Open Publication Distribution System," which is a fancy way of saying it's a special format for sharing books.

If you have an OPDS-compatible eReader or app, you can browse fimfetch directly!


https://fimfetch.net/opds
				
If you want to enable viewing mature fictions, add the mature flag to the url like this:

https://fimfetch.net/opds?mature
				
Also, if you have a user login, you can access your bookshelves and default search options (including mature preferences) using your user key!
You're not logged in right now, but if you were, you'd be able to see your user key here or in your library.
When using a personal key to access the service, all searches are filtered using your personal search defaults, and any fictions downloaded are added to your private mobile library.
Don't share this link with anyone you don't trust, and likewise don't use links from other people you don't trust.
Tested with a number of android eReaders, but there's a chance that something might not work right. Please feel free to contact me about it!
FBReader: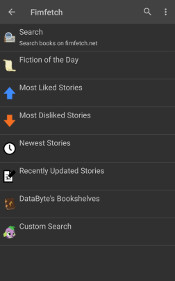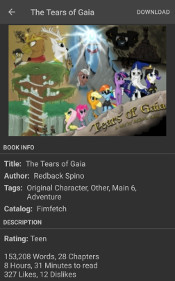 More about Download Formats
Fimfetch generates multiple formats for your reading pleasure, including text files and original html for oldschool colectors in addition to epub and mobi for mobile readers and a tidied-up html for cached viewing.

One key feature I knew for sure I wanted in this project was to automatically generate and have available for download mobi files, which is the file format that Kindle E-Readers use.
E-Ink Readers are awesome, by the way.

My personal favorite feature of the content generators I wrote, however, are the Epub files before the mobi are generated. I have worked to iron out xml syntax errors and formatting tags in order to allow fics to be read on stringy ereaders (I'm looking at you, Apple!), have changed how the title page works vs fimfiction's format including putting the title, author, rating tags, wordcount, and description on the title page, and have also added a bit of fancy magic that embeds externally linked images directly into the file! Now you don't need your reader to be connected to the internet to enjoy graphics!
Archive Stats
413,653
Stories Indexed
237,216
Deleted Stories Indexed
366,402
Stories From FimFiction.net
44,963
Stories From FanFiction.net
2,287
Stories From ArchiveOfOurOwn.org
135,537
Stories marked as complete
111,509
FimFiction.net Stories with over 75% approval
14,397
Stories with more dislikes than likes
158,009
Everyone rated stories
157,523
Teen rated stories
71,498
Mature rated stories
11,947
Dubious rated stories
8,121
Adult rated stories
6,176
Clop rated stories
379
Young Adult rated stories
85,887
Adventure tagged stories
78,742
Romance tagged stories
70,752
Comedy tagged stories
68,585
Slice of Life tagged stories
60,450
Dark tagged stories
42,239
Sad tagged stories
41,100
Sex tagged stories
36,893
Gore tagged stories
35,967
Random tagged stories
25,866
Tragedy tagged stories
22,899
Alternate Universe tagged stories
19,759
Human tagged stories
18,792
Drama tagged stories
15,153
Crossover tagged stories
10,452
Violence tagged stories
9,618
Profanity tagged stories
8,472
Mystery tagged stories
7,803
Death tagged stories
7,170
Sci-Fi tagged stories
6,289
Thriller tagged stories
5,387
Horror tagged stories
5,161
Anthro tagged stories
2,590
Equestria Girls tagged stories
1,728
Self Harm tagged stories
932
2nd Person tagged stories
1,183,324
Chapters Indexed
3,427,778,376
Combined Words
To read all of these stories, it would take you:
44 Years, 8 Months, 18 Days
7,219
Fic-Of-The-Day Eligible Stories
(3130 Used)
250,337,824
Combined Words
To read all of these stories, it would take you:
3 Years, 3 Months, 5 Days
Fiction Data Cached on Server:
4,336,644
files
16.4 GB of Plain Text
92.5 GB of HTML
37.7 GB of EPub
75.8 GB of Kindle MOBI
93 GB of Image Thumbnails
42.5 GB of Other Data Files
358 GB Total
I love numbers, don't you?

Time to read numbers are based on an average reading speed of 250 words per minute, and 14 hours per day.
(need to sleep sometime)

Donations / Support
One of the problems with running a website - especially a complex website like this one - is that they're not free. FiMFetch costs on average about $60 a month to maintain both the primary and backup servers, and is only that cheap because of the generosity of Sour_Sweet. I have considered putting advertisements on the site, but I do not want to rely on ads to keep this site running. I personally despise seeing ads when I'm not actually shopping, and I imagine you won't want to see random google or amazon ads while trying to read about the latest sizzling ship, cutesy slice of life, epic adventure, or any other fic you're into.
I can't well keep doing this all on my own. With a little help, we can keep this ad-free and bustling with our favorite pastel technicolor equines!

I have a Patreon!

Have your name added in this section!
Plug your own website!
Choose a theme for the site!
Influence new additions and features!
Ongoing Supporters:
Sour_Sweet
(Anonymous)
m_a_whyson
Facinus
(Anonymous)
Dog Wizard
(Anonymous)
(Anonymous)
More help from:
(Anonymous)
Andrew Fournier
(Anonymous)
(Anonymous)
Marc Vaarties
Marc von Gabain
Thankyou for your support!