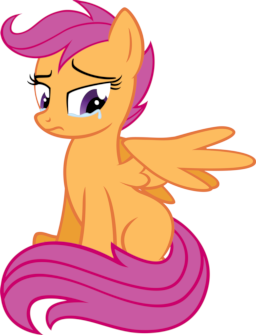 Scootaloo's Painful Secret
Story has been removed from Fimfiction.net
Scootaloo has a secret, one that is hurting her every day. The pain keeps building up inside her and she feels desperate to tell someone, but when even her own family has let her down, who does she dare to trust?
251 Likes,
11 Dislikes,
7,085 Views
Scootaloo is hiding the pain the best that she can, but she feels like she might explode if she doesn't tell someone soon. Who will be there to help the little filly in her greatest hour of need? Will she ever get a happy ending?
Warning: This fic is about child abuse.
4,960 words:
Estimated 20 Minutes to read:
[Cache]